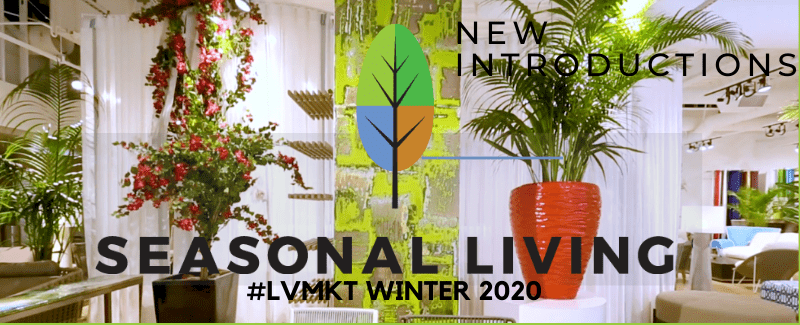 WINTER 2020 Las Vegas Market is almost here…and that means so are many of our new product introductions!
We always look forward to beginning each New Year seeing all of you, our retailer, designer and trade showroom customers, at the bi-annual Las Vegas Market, known by the hashtag: #LVMKT.
If you're an Instagram user, we invite you to follow the hashtag #SLatLVMKT to see all of our exciting new product introductions, in situ, in our gorgeous permanent showroom in Building C-494 starting on Sunday, January 26th.
If you're attending Las Vegas Market, we also invite you to stop by each day to purchase a healthy lunch in our Seasonal Living Cafe, a fixture at Las Vegas Market now for many years for buyers *in the know*.
In this blog post, we are excited to be giving you a *sneak peek* of many of our WINTER 2020 #LVMKT new product introductions, along with a link to where you can find out more about each one of them, at the bottom of this post.
We know how valuable your time is, and we hope looking through our new digital catalog prior to your trip, on your flight or in the car on your way to Las Vegas Market will help you visually gain a greater understanding of the totality of our lifestyle collections, our manufacturing processes, the benefits of our products, and the artisanal craftsmanship baked into the DNA of our product design process.
In addition, you will find the care instructions you need to insure you know everything about how to educate your customers so they will enjoy their new Seasonal Living indoor/outdoor furnishings without worry.
OUR EXCITING NEW PRODUCT INTRODUCTIONS FOR WINTER 2020 #LVMKT!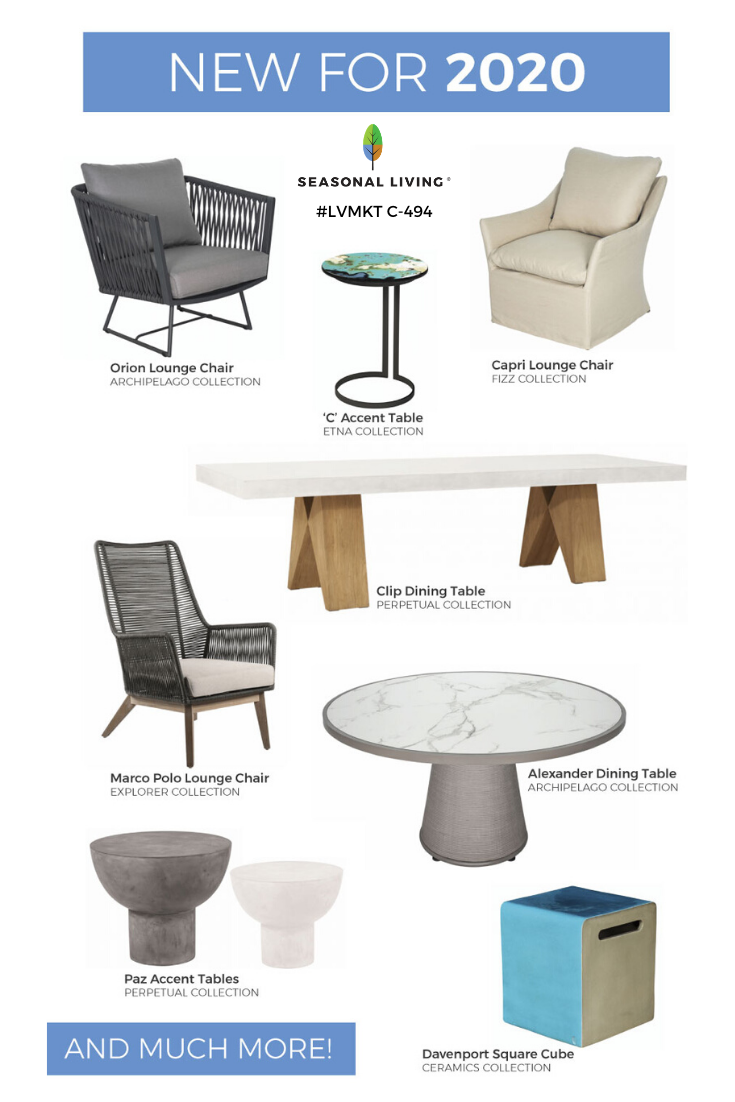 We are excited to bring you the new product introductions shown above, along with several more, at the upcoming #LVMKT.
Ready for some more details?
We've added to our ARCHIPELAGO collection, with our new ORION Lounge Chair, also available with a coordinating sofa.
In our new catalog, we also show you many more pictures than before of how our skilled craftsmen/artisans from countries around the world make our furniture. Below is a sneak peek of how the metal is fabricated for our ARCHIPELAGO collection.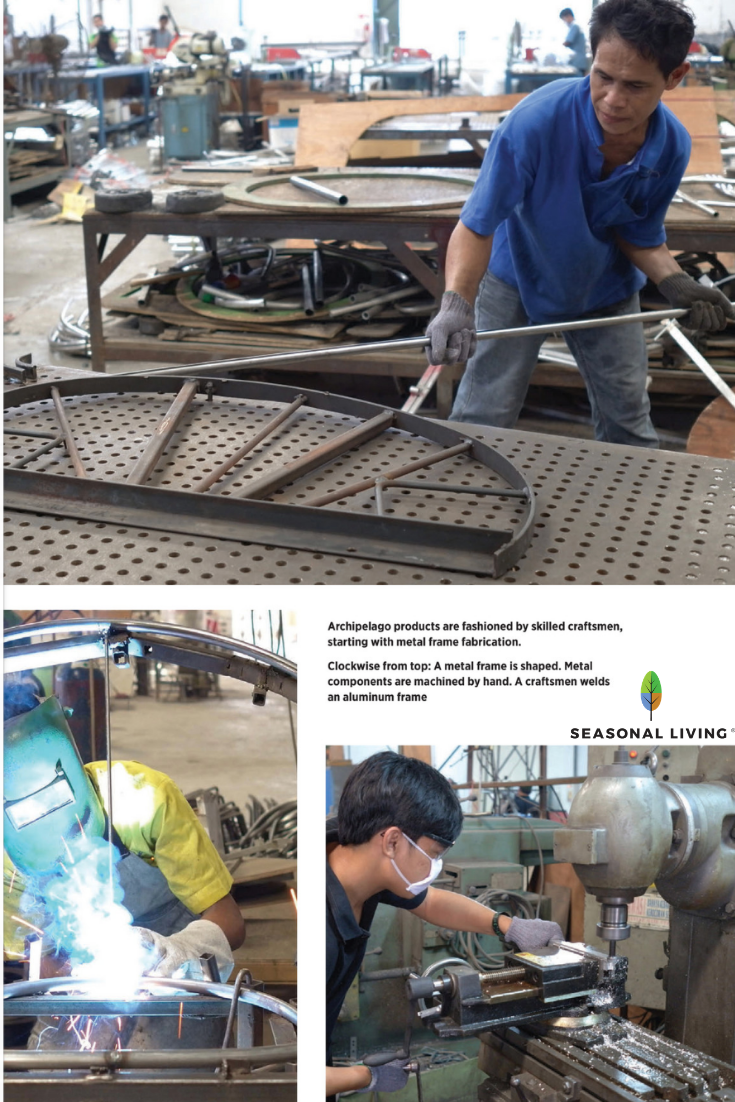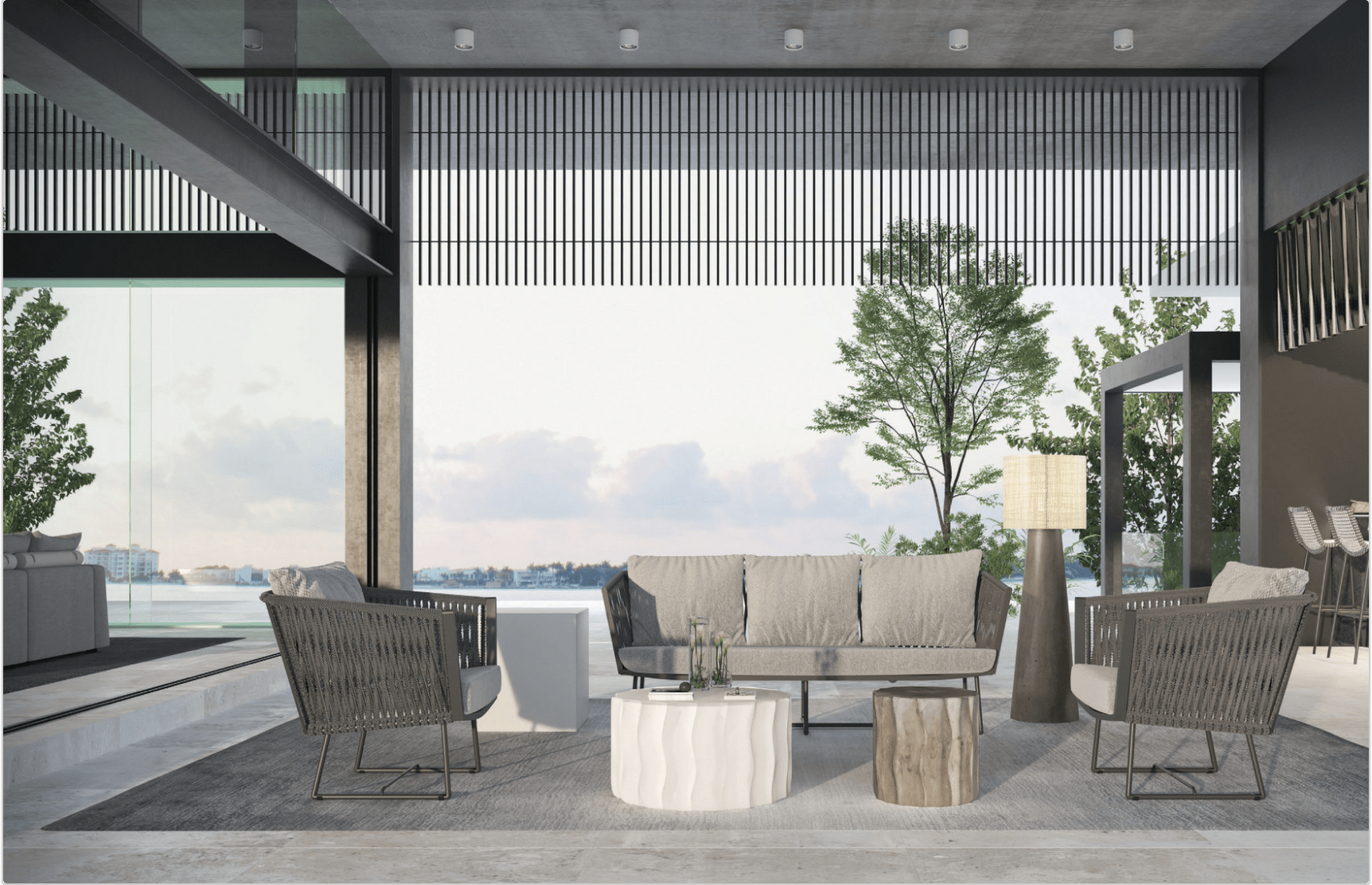 Find out more details on our ORION Lounge Chair and sofa by clicking, here.
Also in our ARCHIPELAGO collection is our new ALEXANDER table, available in the standard sizes and finishes shown below.
Please make note that we can also custom size this table, as we can many pieces in our collections. Please ask us for a custom quote!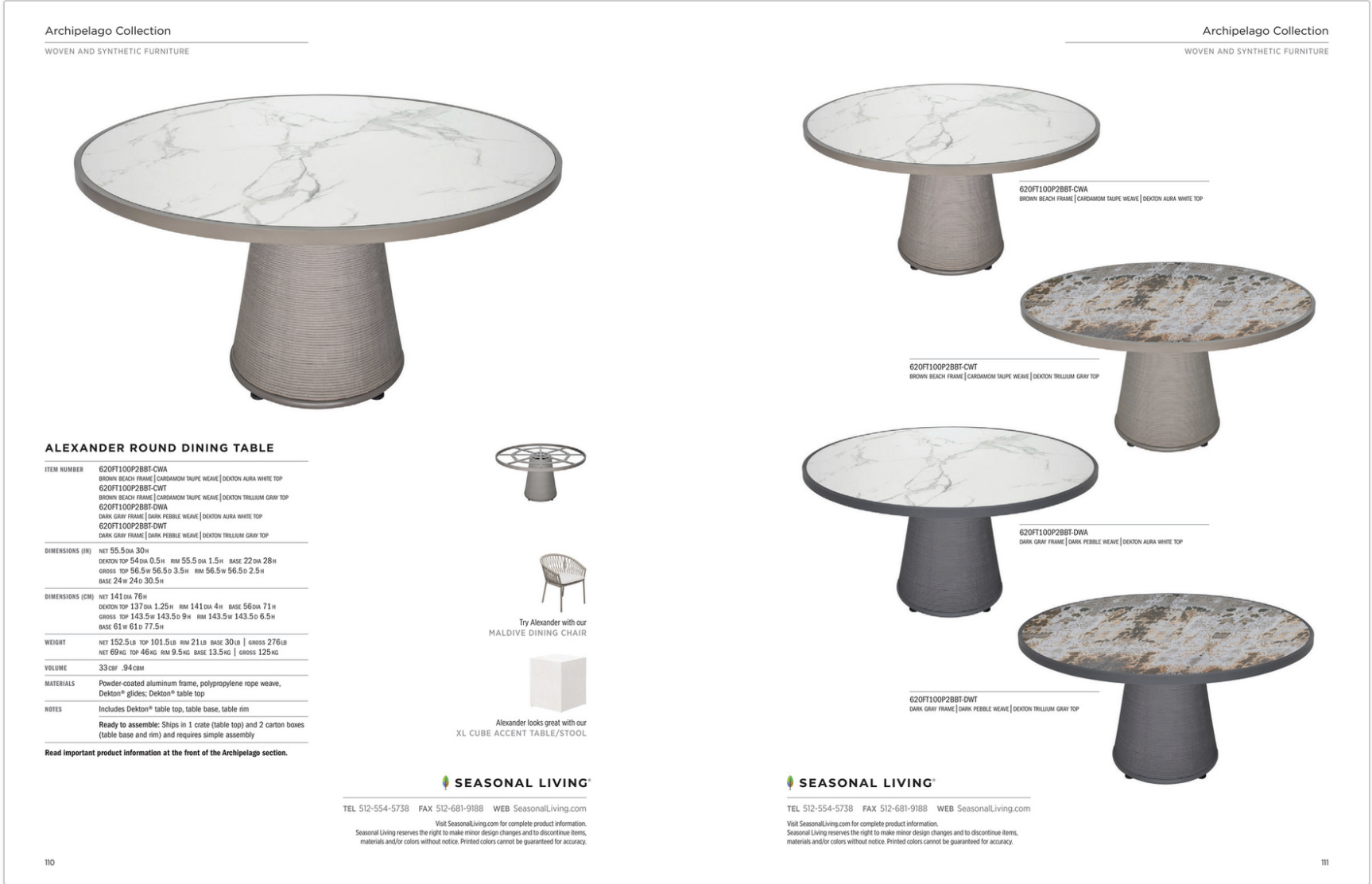 In our new 2020 online catalog, you will also now see further explanations like this about our products, making it easier than ever to communicate to your customers about the benefits to them of investing in Seasonal Living, the finest luxury indoor/outdoor furniture that will, with proper care and use, last them a lifetime.
Be sure to carefully read all of our care and warranty information in our new online catalog, too.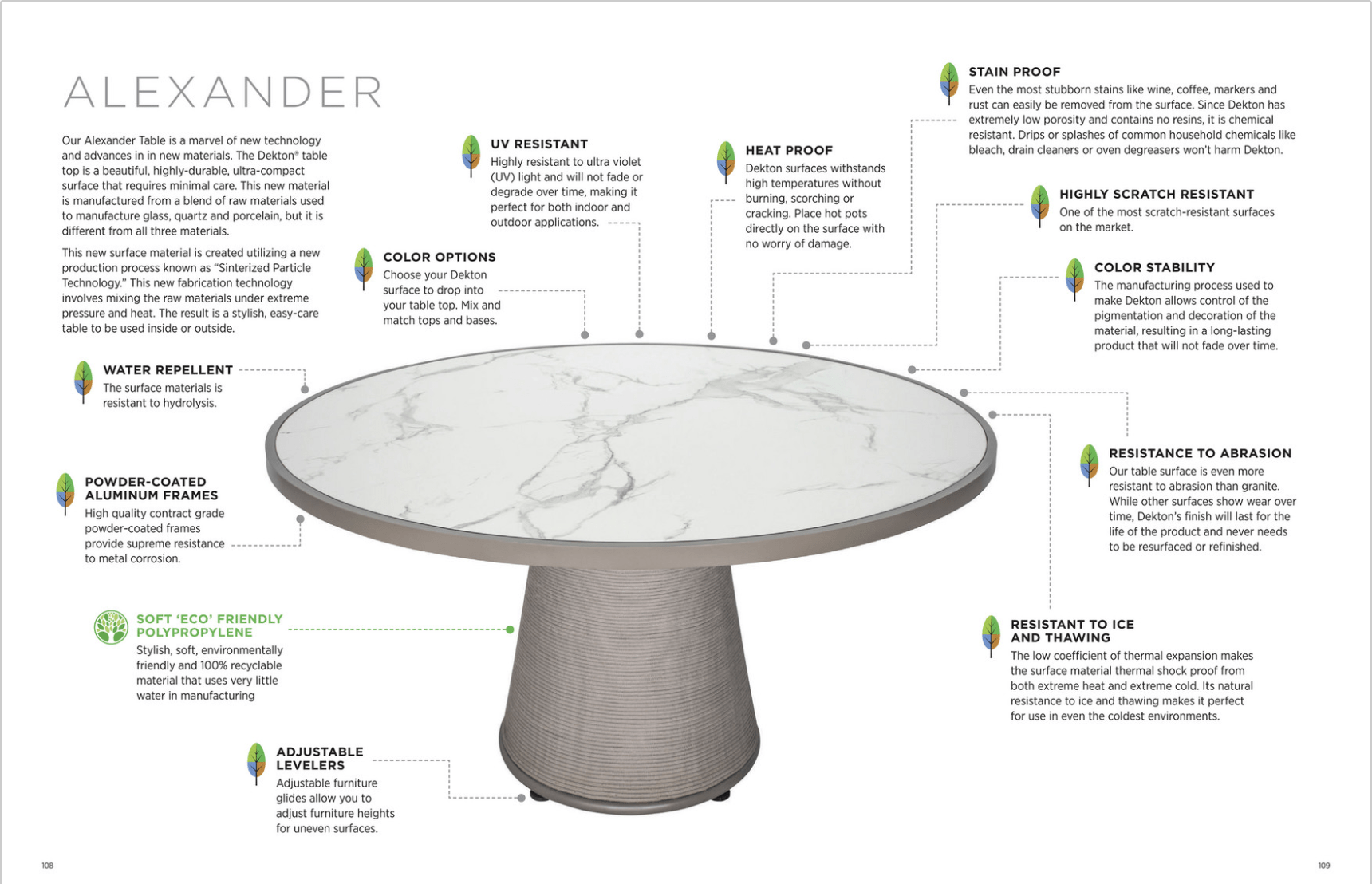 Our ETNA collection, made out of volcanic stone, which is impervious to extreme heat and cold and never has to be covered, has been significantly expanded, too, with new finishes and new pieces, one of which, the C occasional table, is shown above.
Watching the Italian artisans who produce the beautiful finishes for our ETNA collection is a treat.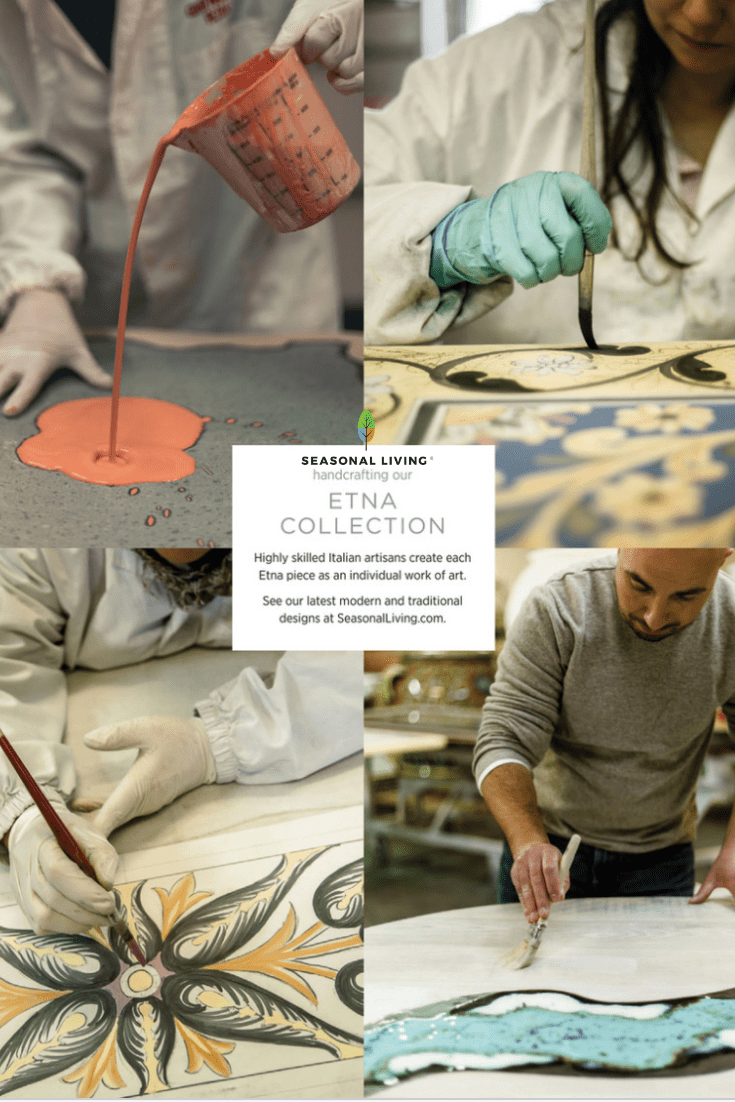 We have also added the CLIP dining table to our very popular reclaimed teak and concrete PERPETUAL collection – including dining and bar height tables, consoles, benches and occasional tables – all of which can be customized in size.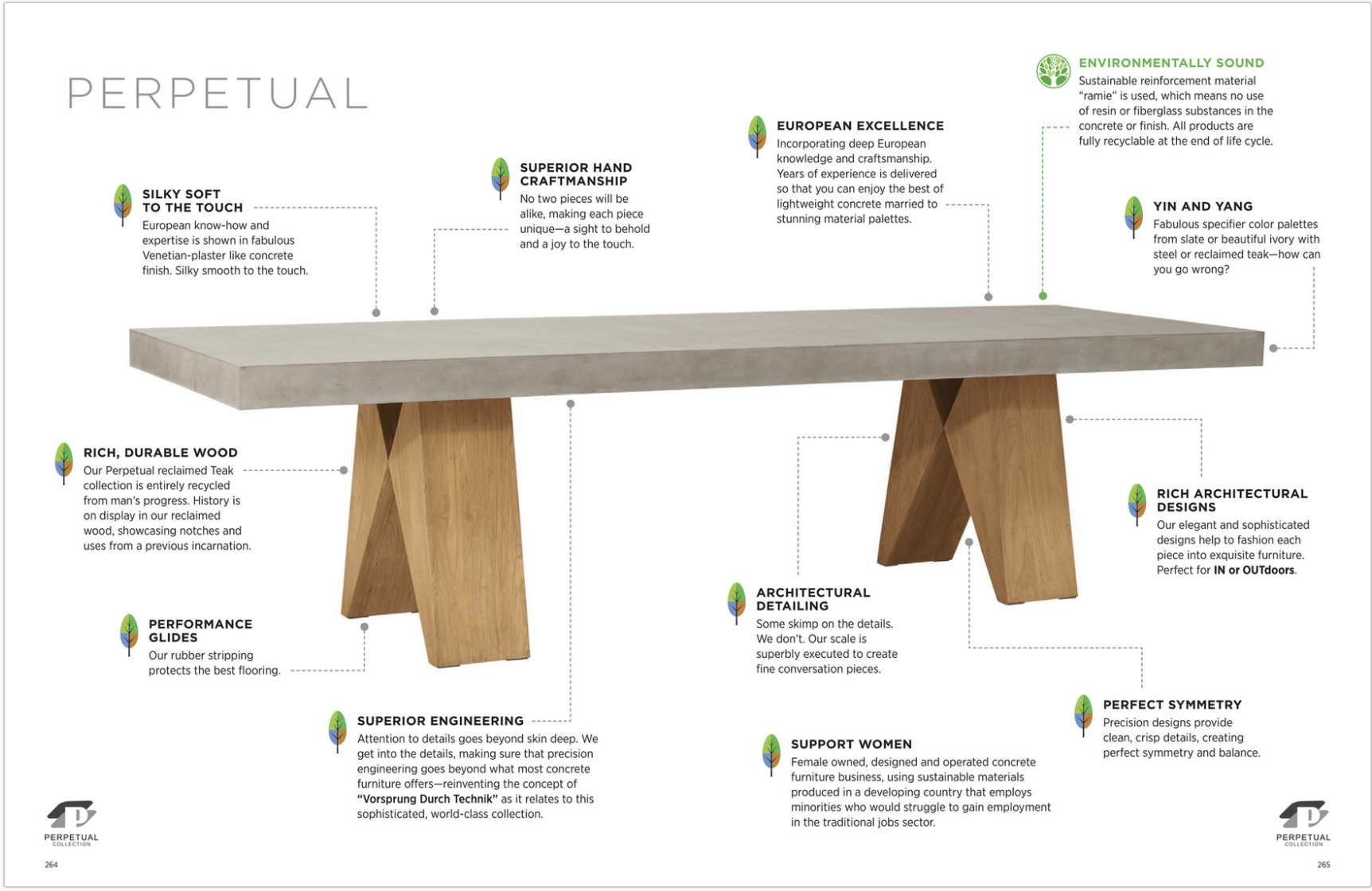 The gorgeous venetian like plaster finishes that make our PERPETUAL collection concrete surfaces so beautiful do need a bit of special care, though.  It's easy to do and only takes a few minutes a few times per year, but it's important.
Please see this post we wrote about that, so you can see and know exactly what you need to tell your customers regarding how to care for our concrete tables so that they get maximum enjoyment out of them year around.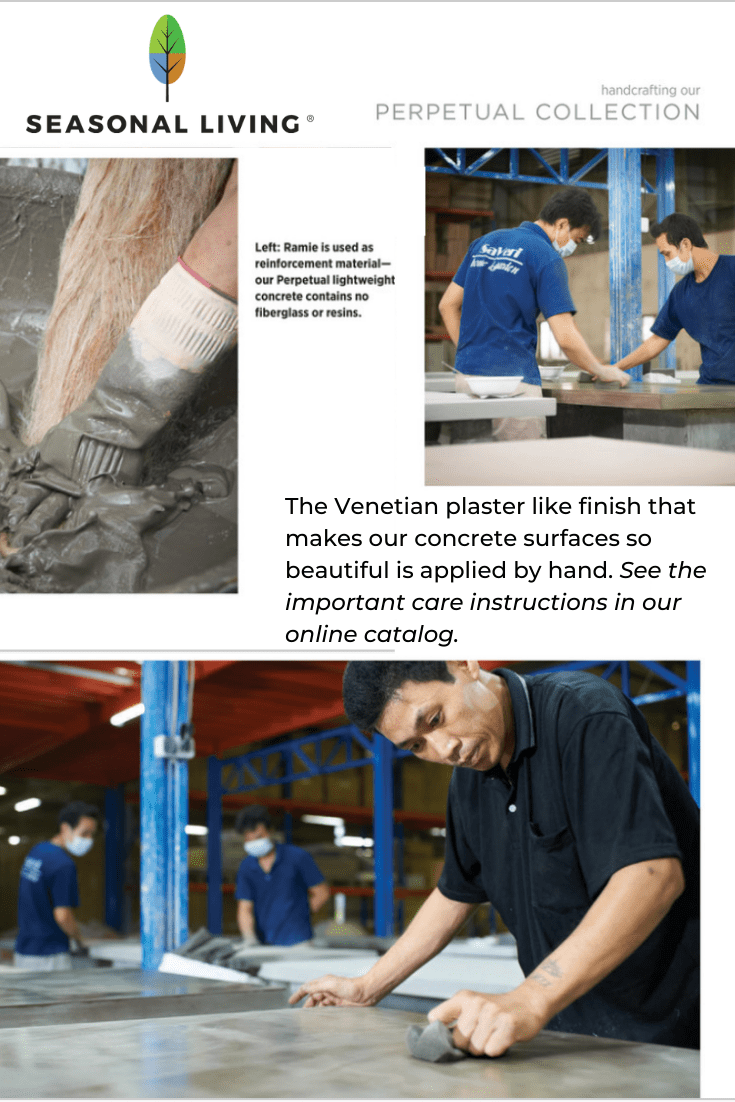 It's fun to see how Utah based Mom and Instagram influencer, Cara Loren, with over 1 million followers, is posing for a fashion selfie in front of a table from our PERPETUAL COLLECTION here. See more on her Instagram feed at http://instagram.com/caraloren.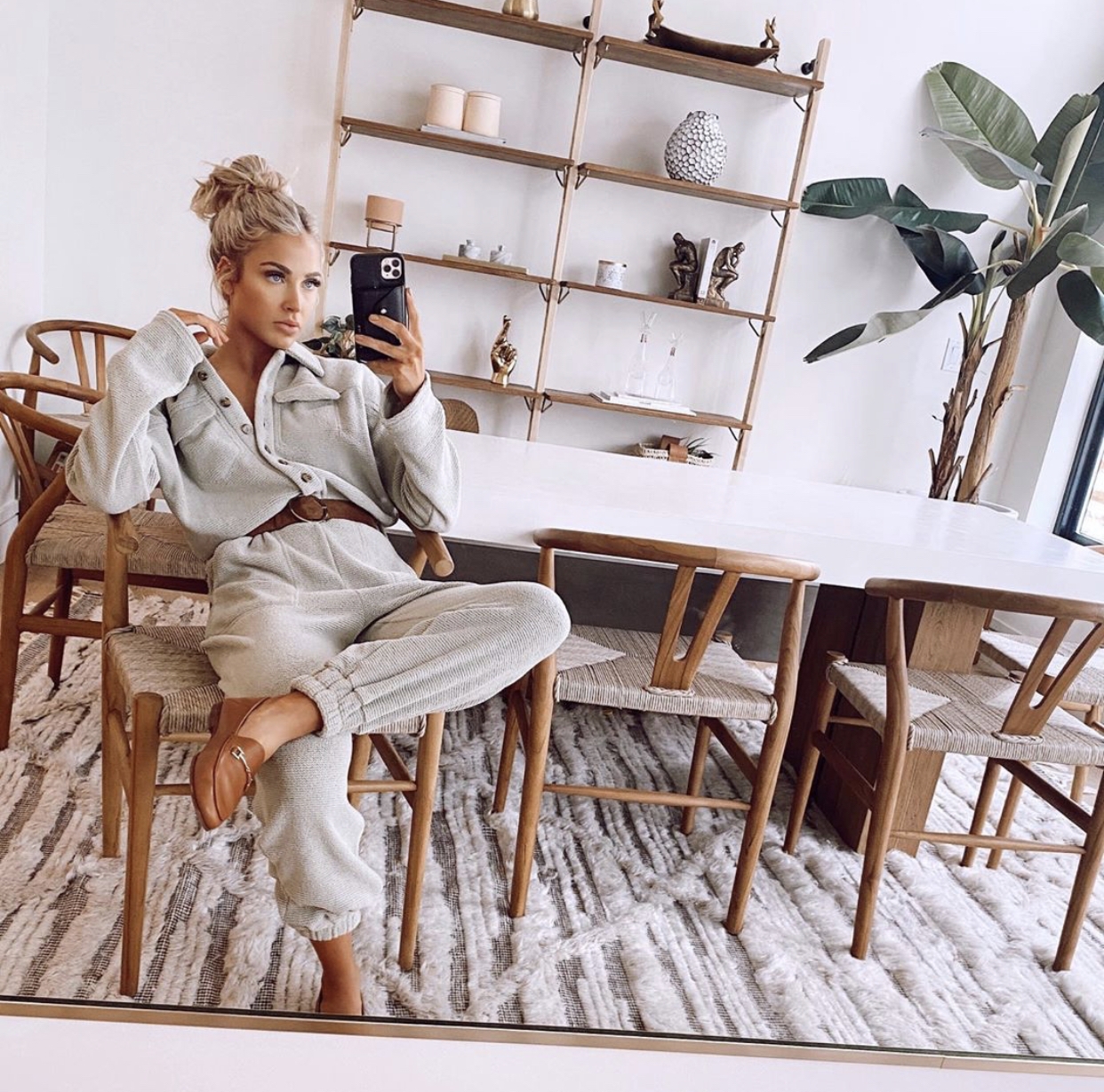 And now…on to a few other new things you can expect/ask for/see in when you visit us in C-494 at Las Vegas Market.
1. GET THE PRINT ISSUE OF #WINTER SEASONAL LIVING MAGAZINE…AND ASK US HOW TO GET IT FOR YOUR WEBSITES, TOO.
Don't miss picking up your PRINT copy of the newly expanded and re-designed #WINTER issue of #SeasonalLivingMagazine. If you missed seeing our blog post about our expansion, see it here, and/or if you haven't gotten your complimentary subscription to it yet, please click here to subscribe to it.
Note: if you subscribe, you will immediately receive a bonus issue to download which is all about *How To Design An Indoor/Outdoor Living Room On Any Budget." It's a fun read and we hope you will get your complimentary subscription now so you can enjoy it.
The mission of our magazine is to inspire people the world over to live more in harmony with the four seasons of Winter. Spring. Summer. Fall. through inspiring images and fun, informative articles and videos on all things pertaining to seasonal Travel. Food & Recipes. Entertaining. Wellness. Design.
If you are a customer of ours, and would like to make Seasonal Living Magazine available to share on your own websites or within your own newsletters, blogs, etc., please reach out to us at editor@seasonalliving.com or talk with us at Las Vegas Market.
We can also make a print ready digital edition available to you, as well, if you would like to make print copies available to hand out in your own showrooms.
2. SEE OUR NEW SEASONAL STORIES VIDEOS ….AND ASK US HOW TO USE THEM ON YOUR OWN WEBSITES, TOO. 
We commissioned the team that produces our magazine, Savour Partnership, to produce 4 new videos that help us share our seasonal stories of Fall. Winter. Spring.Fall. , and they will debut at #LVMKT.
They are very beautiful and will also be available to you, too, if you are a customer of ours, and would find them useful in helping you tell our story to your own customers.
Please ask your representative for more information.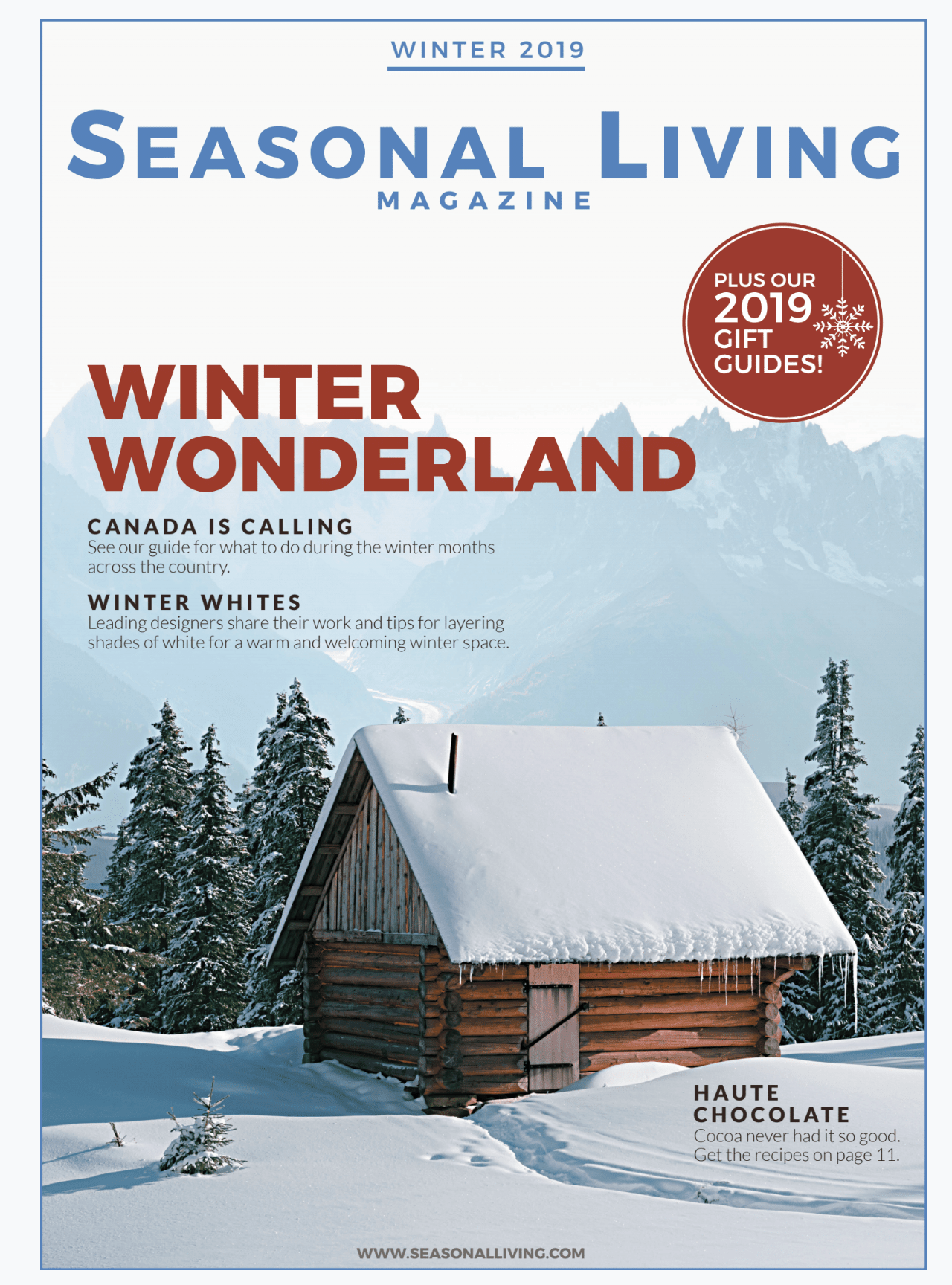 3. ASK TO GET ADDED TO OUR RETAILER LOCATOR.
If you are a new retailer, designer, or trade showroom interested in carrying our products, please ask your representative how you can be added to our searchable retailer locator on our website, shown below.
We get thousands of inquiries every year, and we forward these on to our representatives who then forward them on to our valued partners. We also link to our retailer locator in #SeasonalLivingMagazine, as we do not sell direct to consumer from our website or from our magazine.
(NOTE: If you are a consumer reader of this blog, and are interested in finding out our closest partner nearest to your location so you can see our products in person, please click here.).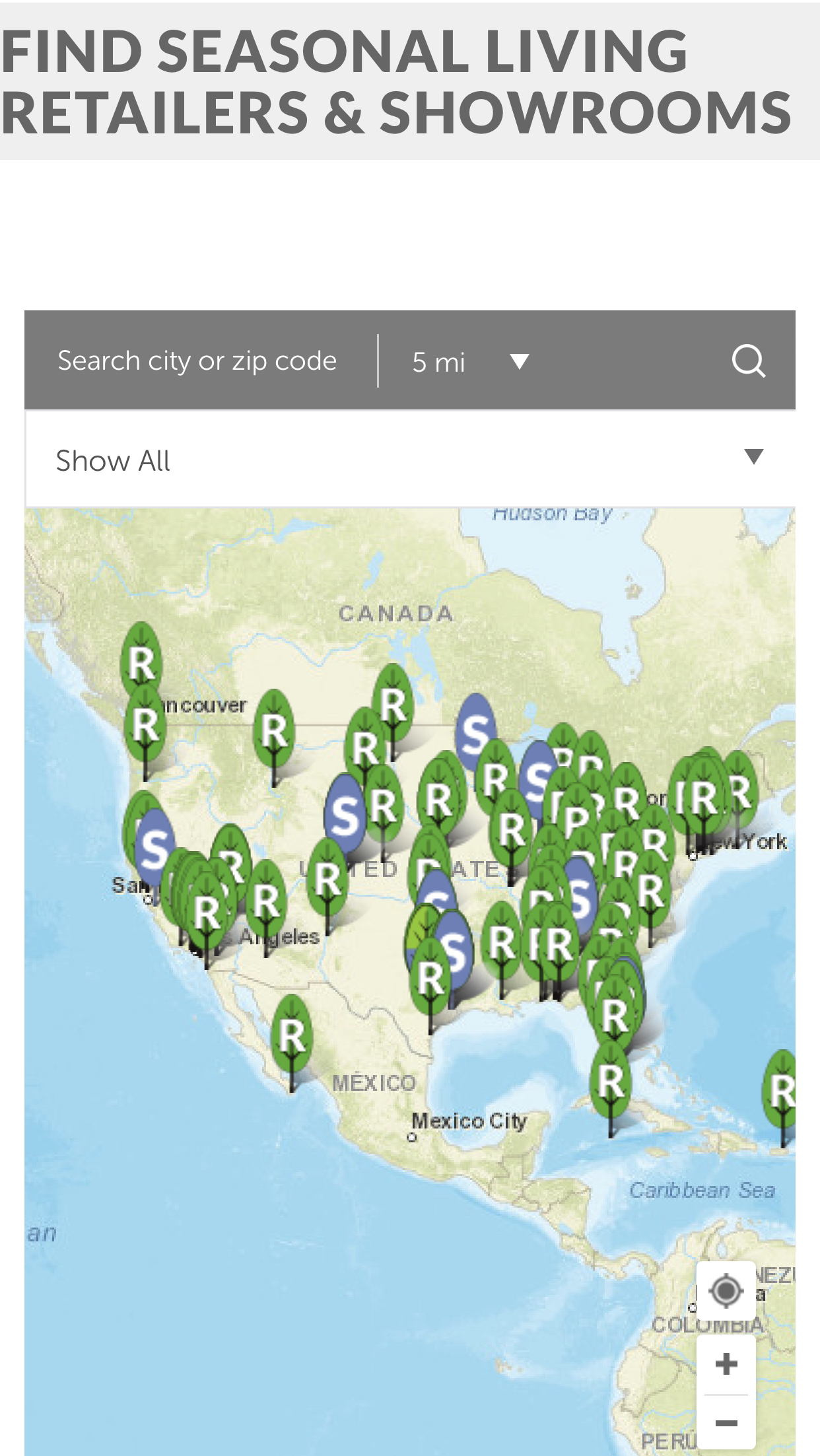 4. USE OUR *ARTS AWARD GRAPHIC* IN YOUR OWN ADVERTISING.
We are so grateful to have won our industry's highest accolade for product design five times, the #ArtsAward. We are the first indoor/outdoor furniture manufacturer ever to have done so and are now listed in the Arts Award Hall of Fame. You can read more about this on our site, here.  

If we can provide you with the above graphic to use with your own customers, please let your representative know.
We look forward to seeing all of you, our long time customers and our potential new customers, at Las Vegas Market in C-494 starting on Sunday, January 26th!
LASTLY
1. Follow us on Instagram, here:
http://instagram.com/seasonal_living_trd.    
Also,  if you take a picture in our showroom, please use the hashtag, #SLatLVMKT, so we can find it and share it. And if you have a favorite seasonal image and/or story to share with us on Instagram about any aspect of seasonal travel. food. entertaining. wellness.design., please tag us at @seasonal_living_trd and use our new branded hashtag: #SeasonalStories so we can collect them and reshare with credit to you.
2. View our entire new 2020 online digital catalog, here.
3. We invite you to get detailed product information on each of our new indoor outdoor product introductions listed in the opening NEW PRODUCT INTRODUCTIONS image by clicking on these links below.
ORION WOVEN ROPE LOUNGE CHAIR || *C* VOLCANIC STONE OCCASIONAL TABLE ||  CAPRI SLIPCOVERED FABRIC LOUNGE CHAIR || CLIP CONCRETE AND RECLAIMED TEAK DINING TABLE || MARCO POLO WOVEN ROPE LOUNGE CHAIR || ALEXANDER DINING TABLE || PAZ CONCRETE OCCASIONAL END TABLES || DAVENPORT GLAZED CERAMIC OCCASIONAL TABLE 
4. As always, thank you for pinning images from this post, for reading, for subscribing to our magazine and/or blog, for buying our products, for being a valued partner to our company…. in whatever way you are.
We appreciate each and every one of you who are members of the worldwide community of people who believe like we do in living your lives in harmony with the four seasons, surrounded with the furniture, lighting and decorative accessories that help you do that most beautifully, sustainably and in support of the heritage of artisanal craftsmanship.
You make what we do, possible…and we especially thank our representatives and in house team members who have worked so hard to support our growth over these past 15 years.
We start 2020 with immense gratitude for them, for you.
Gary Pettitt
CEO, Seasonal Living
Publisher, Seasonal Living Magazine