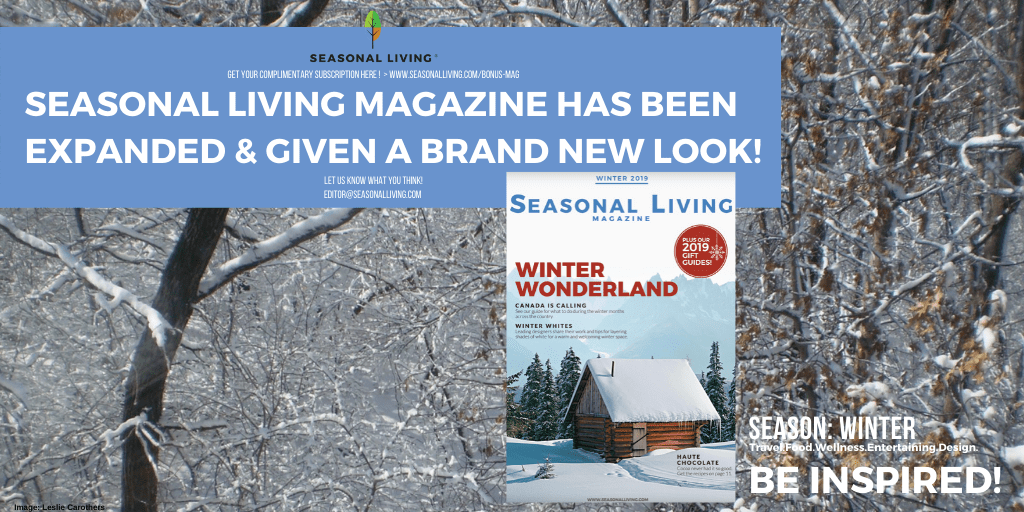 A SEASONAL NOTE OF GRATITUDE, FIRST, FOR ALL WHO HAVE HELPED MAKE THIS EXPANSION POSSIBLE. 
Before we introduce you to the new look and expanded WINTER issue of Seasonal Living Magazine, we want to sincerely thank each one of you.
To all of you who have subscribed to it, or who have taken a moment to send us or share with us in person encouraging words of support, we thank you. To all of you who have given us your feedback about what we could be doing differently or better, we thank you.
To the major trade publication, Business of Home, ( a must read for every designer and design focused business) who gave Seasonal Living Magazine a beautiful mention in this article, and included the image below, of 5 of the 7 past covers, we thank you.

To the interior designers whose beautiful work has graced our pages so far: Washington, DC based Mary Douglas Drysdale, Pensacola, FL based Cheryl Kees Clendenon of In Detail Interiors, Los Angeles based Betsy Burnham of Burnham Design, Houston based Lynn Yellen of Ladco Resort Design Group,  St. Barth based Elisa Bally of Elisa Bally, Austin and San Miguel de Allende based Rachel Horn of Rachel Horn Interiors, Austin, TX based Christine Turknett of Breathe Design Studio, Savannah, GA based Joel and Erika Snayd of Rethink Design Studio, and to Houston, TX based landscape artist/designer, Blair Michener of Up-Country, we thank you for the opportunity to publish your work.
Our readers have loved being inspired by the beauty you create and we invite them to click through to the links above to see your websites, if any of them have a need to hire a designer in your area.
With this expanded edition, we are excited to be able to publish the work of even more interior designers, and we hope you enjoy the work of Los Angeles based Laura Schwartz-Muller of Four Point Design Build, Boise, ID based Emily Williams Clark of Clark And Co Homes, Fayetteville, NC based Jana Donohoe of Jana Donohoe Designs and Des Moines, IO based Jillian Lare to be found in the WINTER WHITES cover story in the design section.
Learn what color temperature your LED lights should be… and see how each of these talented interior designers layered neutrals and winter whites to add richness, warmth, depth and a little sparkle, with lighting, to the stunning interiors they've create for their clients.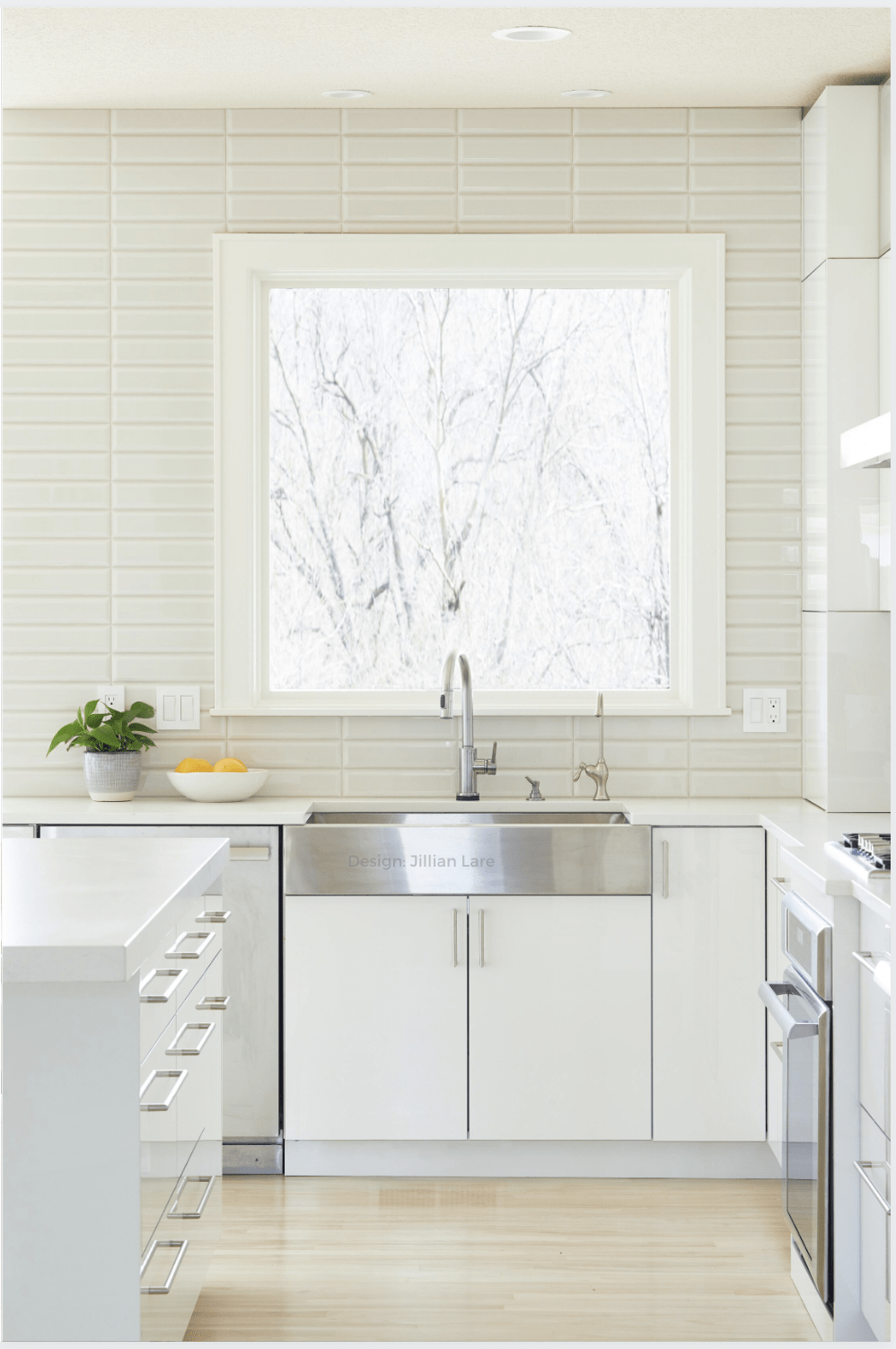 We have also expanded the sections on food and recipes. Who is ready for a cup of delicious HAUTE CHOCOLATE while reading the rest of this post? See how to make it, by clicking here!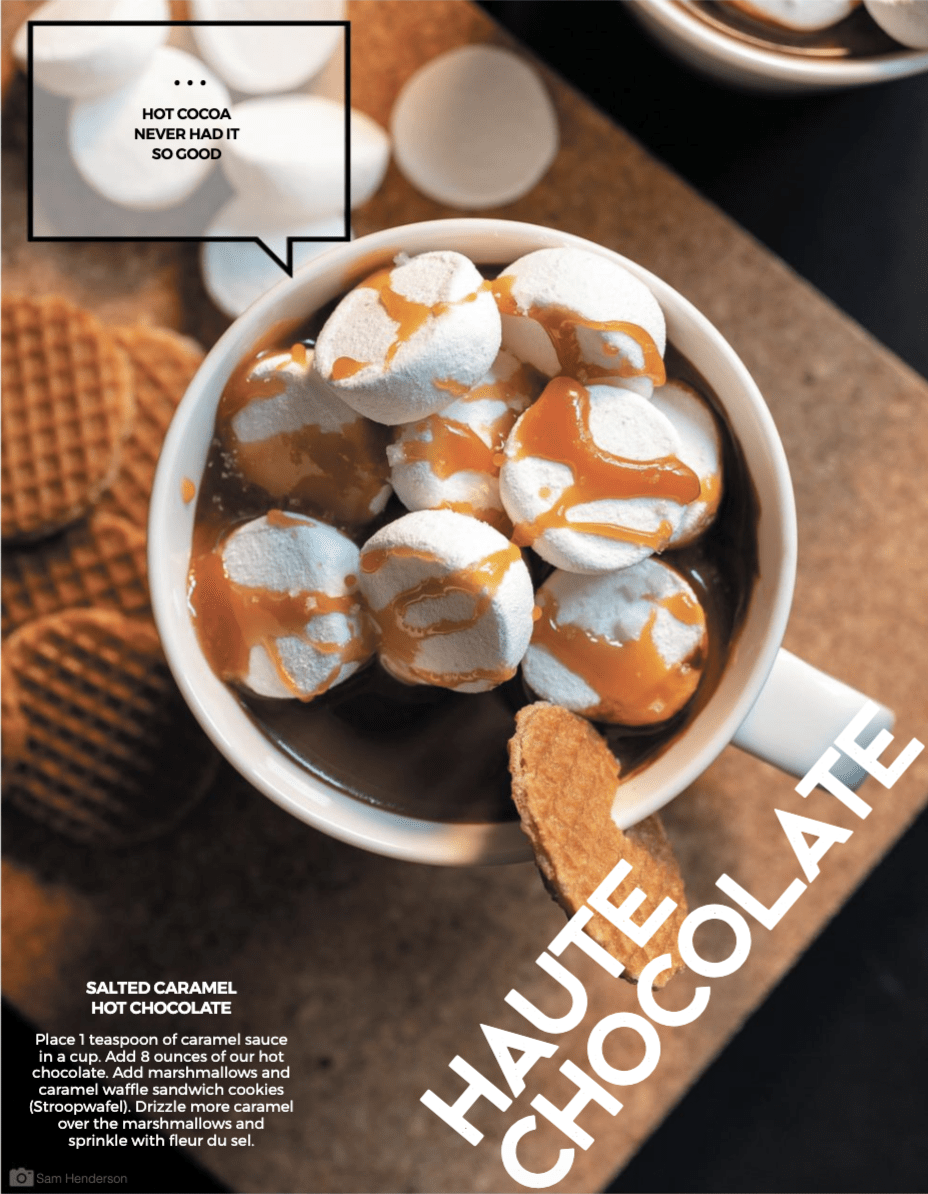 We've added a new section on wellness, too, as you've told us this topic is important to you. Don't miss our first guest contributor article, on biophilia, by New York City based wellness expert and interior designer, Laurence Carr. Read it now, here.
In addition, we've added more carefully curated shopping pages to make it easy for you to #shoptthemagazine and save time. See more below!
We will now be producing the magazine quarterly in alignment with the seasons, WINTER, SPRING, SUMMER AND FALL, so expect to see our SPRING issue out the first week in March, which will also be in print, just in time for those who might be visiting us in our new INTERHALL end cap space at High Point Market!
Lastly, we'd like to give an end of year shout out and thank you to the team responsible for the design and writing of Seasonal Living Magazine for us, Leslie Carothers, CEO of Savour Partnership, and her Creative Director, Sam Henderson, who also creates and photographs all of the food and recipes in the magazine. Thank you, Leslie and Sam. You two have become an integral part of our team, and we are appreciative.
But it is you, our readers/subscribers and customers, whom we are most grateful for as we close out this decade. We could not continue to grow the magazine without your patronage and support, and we are deeply grateful.
We invite you to enjoy the rest of this post, and, when you're done reading the WINTER issue, we'd love to have your feedback at editor@seasonalliving.com.
THE NEW COVER LAYOUT: what are you noticing that's different? We changed it based on your feedback. Thank you!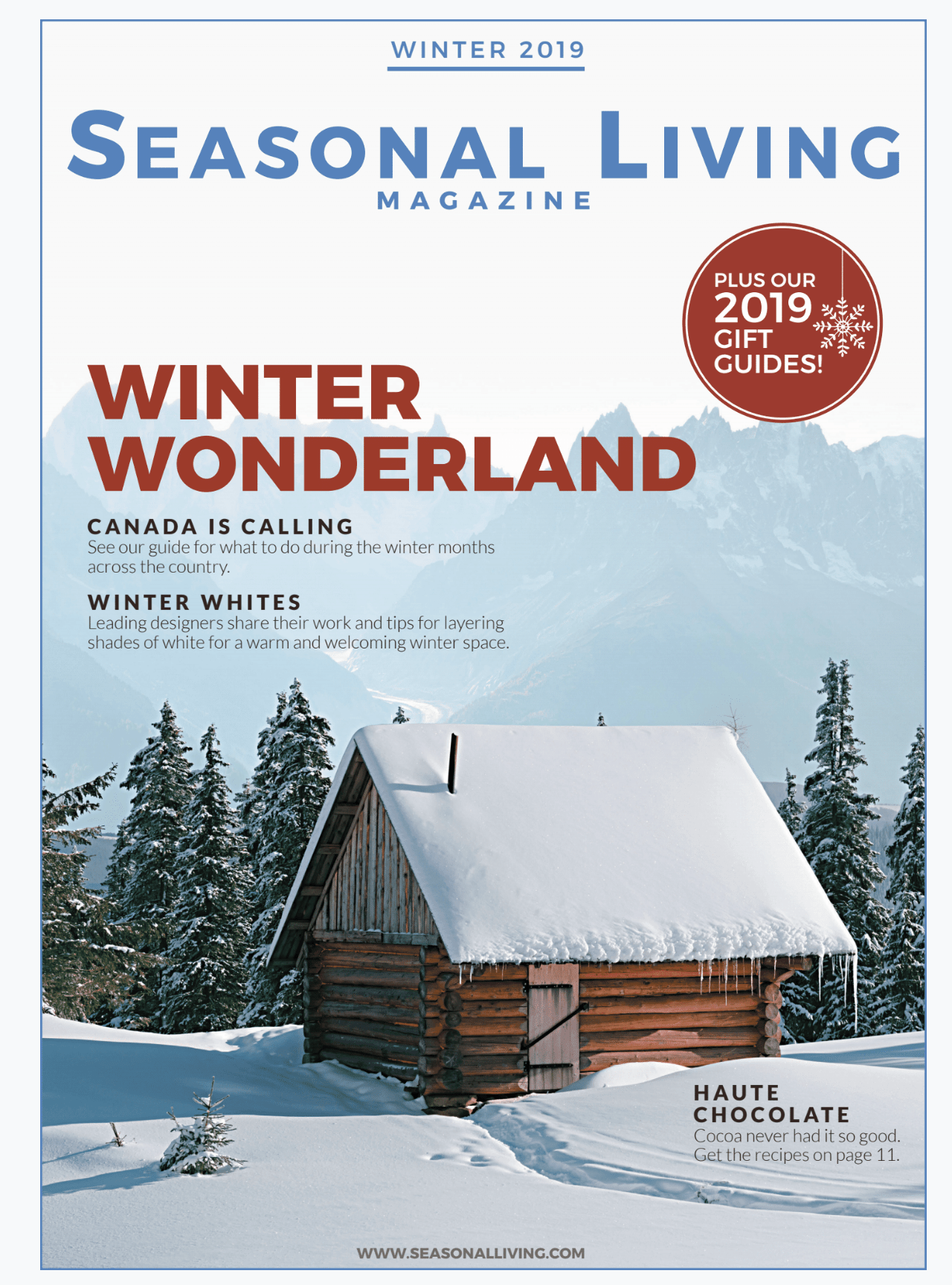 WHO NEEDS TO DO A LITTLE SHOPPING?
Inside the WINTER issue of Seasonal Living Magazine, you'll find pages of carefully selected seasonal gift ideas, (the entertaining gift guide page is shown below). See the gift ideas for the travellers and wellness seekers in your life, too, and don't miss the light!
All you'll need to do to purchase? Click the link! It's that easy and will save you so much time. To buy what you see below, from this post, to save you even more time? Click any of the links below!
Southern Living's Zucchini and Corn Casserole (yumminess for the vegetarian on your gift list! ) | Kombucha Jar and Brew Kit (healthy & delicious!) | Cocktail Infused Ice Cubes ( party time !) | Personalized Wine and Cheese Carousel (who loves a monogram?) | Geode Puzzles (hello, pretty puzzles!) | Soup Gift Basket with Wine ( warm & relaxing! ) | Mixtape Card Game (music fun for your family!)
(Please note: we do make a small referral fee if you purchase, but at absolutely no additional cost to you!)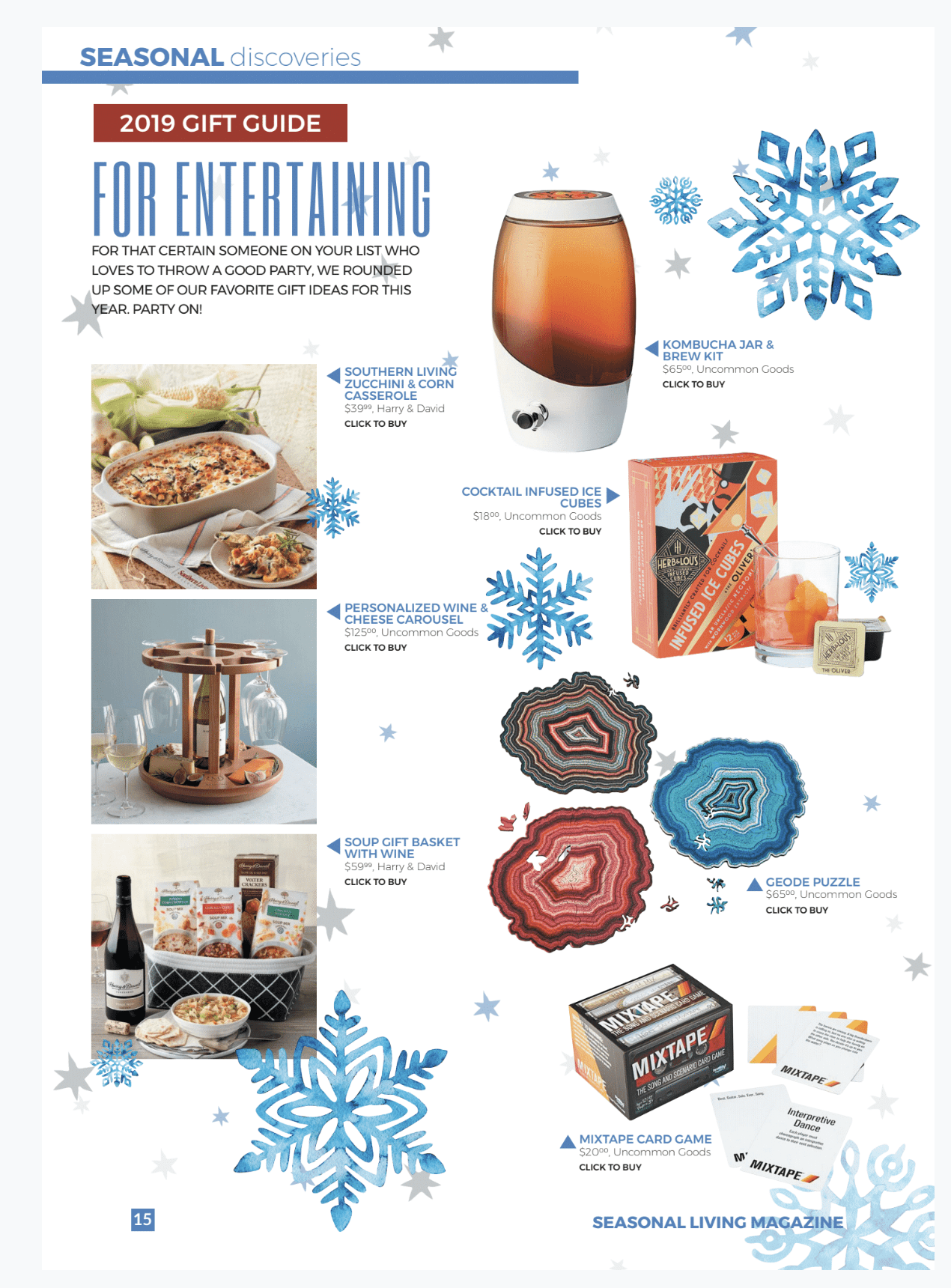 EASILY FIND WHAT YOU WANT TO READ: OUR TABLE OF CONTENTS AND A LETTER FROM SEASONAL LIVING'S EDITOR/PUBLISHER, GARY PETTIT, THE CEO OF SEASONAL LIVING.

Let us know what your favorite part of the new layout is here, and/or your favorite article! We'd love to know.
And if there's a story idea you have for us? Send us your ideas, here.

TREAT YOURSELF TO A GIFT!

Who needs stools that can double as occasional tables or vice versa – for year around indoor/outdoor use?
Our small batch, artisan produced, beautifully glazed ceramic tables also come in a variety of other colors, and can be easily purchased from our retailer and designer partners, whom you can find by clicking here!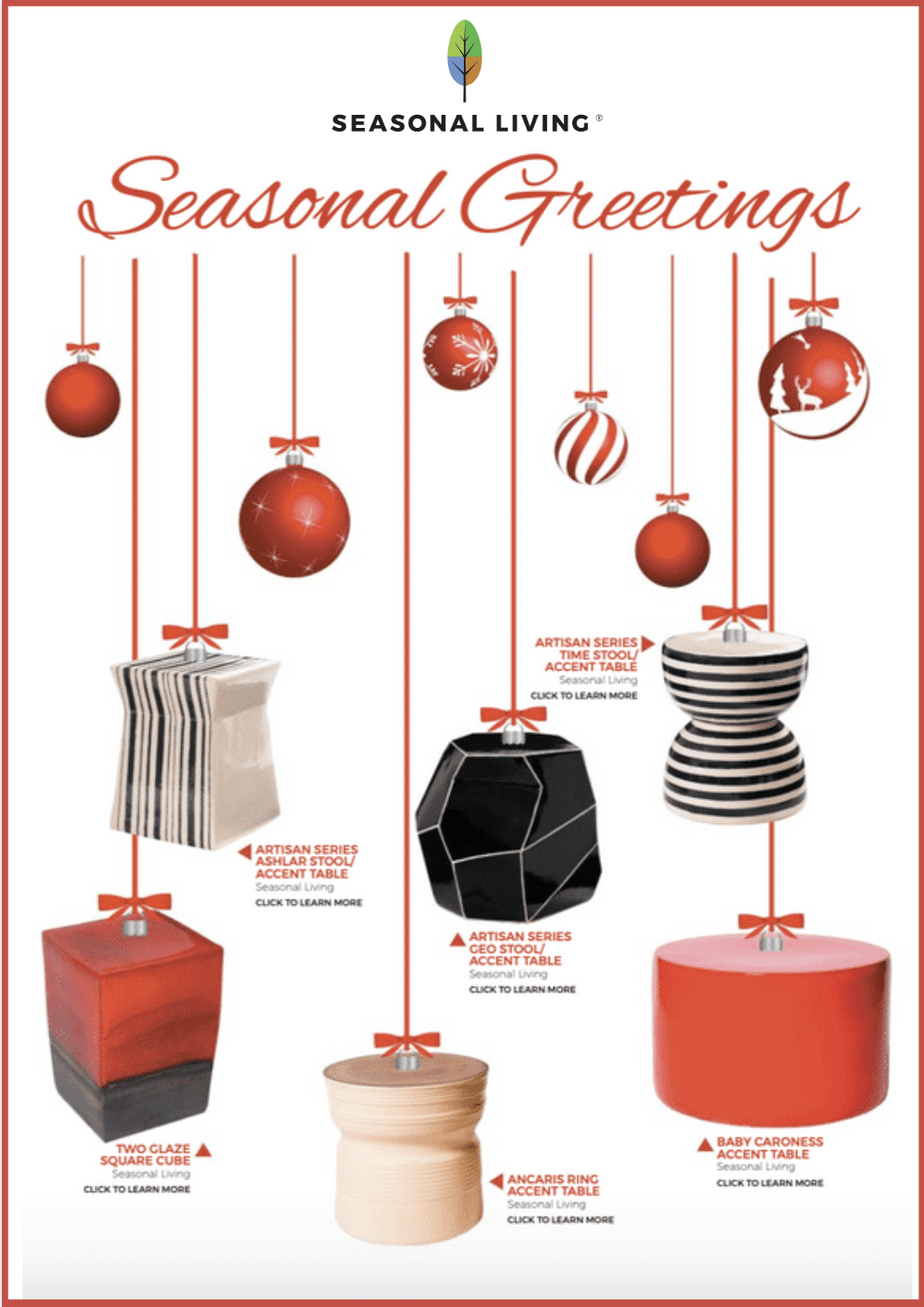 We think you'll also enjoy the JOY BOUQUET illustration in this issue, too, by renowned watercolor artist, Gloria Battista Collins. Her newsletter is pure delight to read, and we hope you'll click through to the link to it in the magazine to subscribe to her monthly joy trackers!
This is one of her stunning watercolors below, showcasing her holiday Christmas card.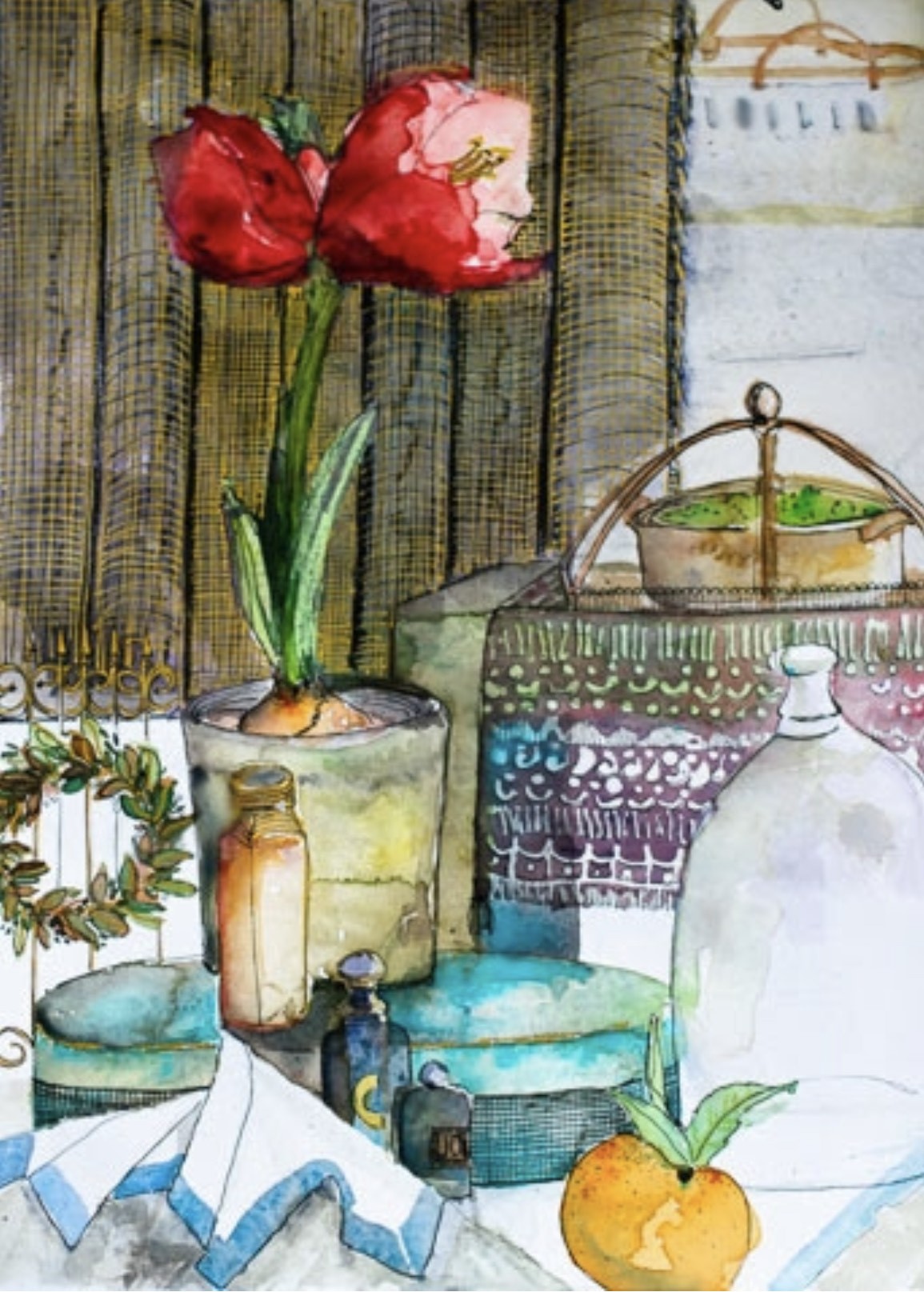 There's so much more inspiration to be found in this new expanded edition, including our travel articles on Canada and Hawaii.
Even if you can't go to either destination this winter, we hope you will enjoy a few minutes with a cup of our haute chocolate, taking a virtual vacation, here!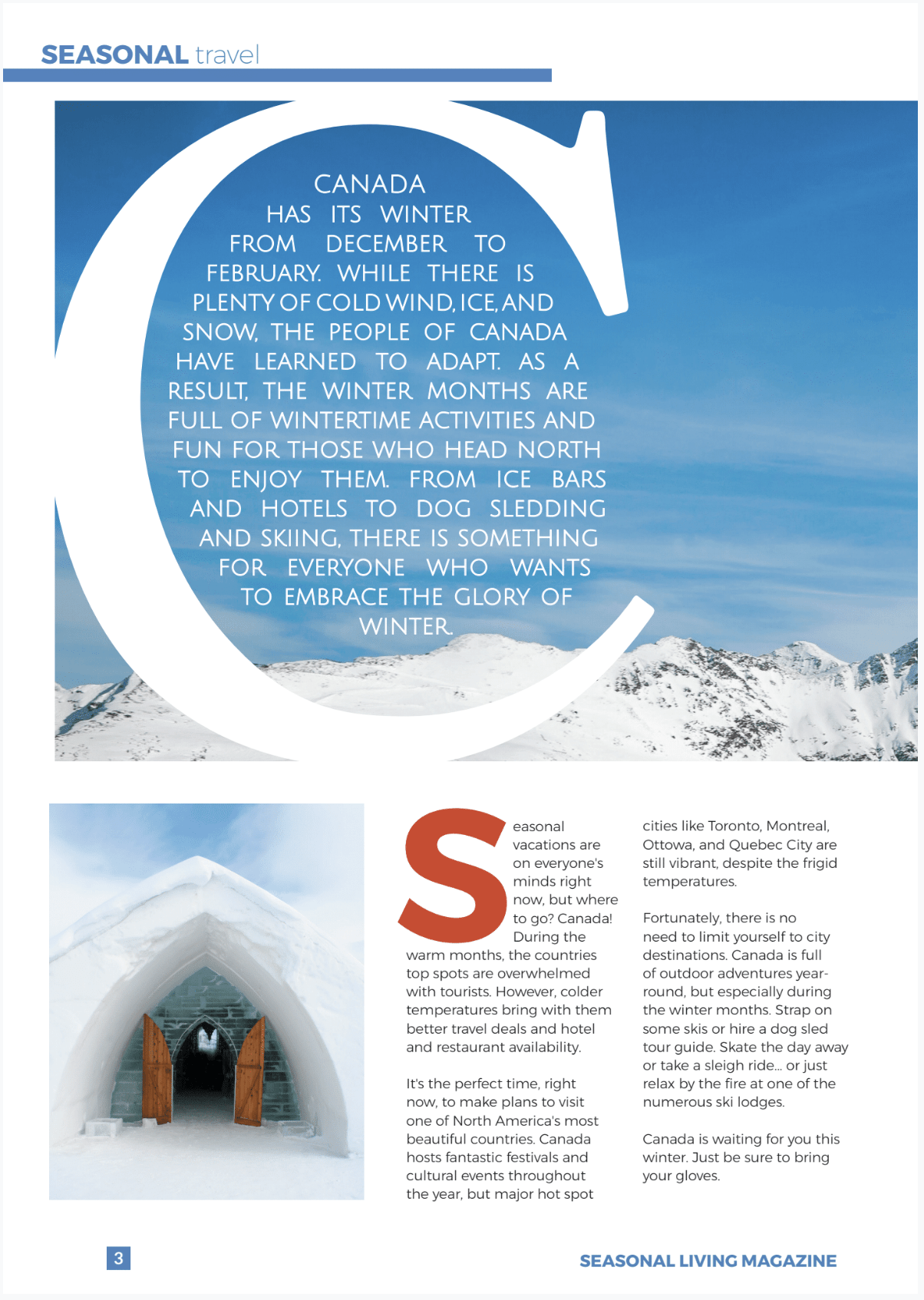 The entire expanded issue is 32 pages, and as you can see, we've just shown you the tip of the iceberg….
We sincerely hope you enjoy it all!
Again, thank you and Happy Holidays!
The Team At Seasonal Living
Gary Pettitt, CEO and Publisher
Want to see more from Seasonal Living?
Follow us on Instagram, to see our daily stories, here!
______
Are you a customer of ours, or interested in becoming one?
We invite you to contact us here and/or visit us in #WINTER 2020 at Las Vegas Market, January 26-30 or at DESIGN EDGE BOSTON, the new regional tradeshow, exclusively for New England based luxury interior designers, March 25-26.
You'll also be able to pick up print copies of Seasonal Living Magazine in both locations!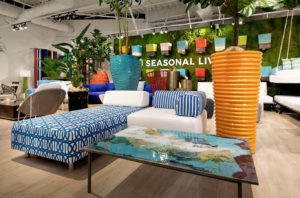 ______
Interested in specifying or needing custom sizes for your next hospitality or residential project?
Please contact us at sales@seasonalliving.com. We'd love to help you!
_____
Interested in advertising/having us design an article about your business to appear in Seasonal Living Magazine?
Let's discuss the possibilities! Please contact us here.