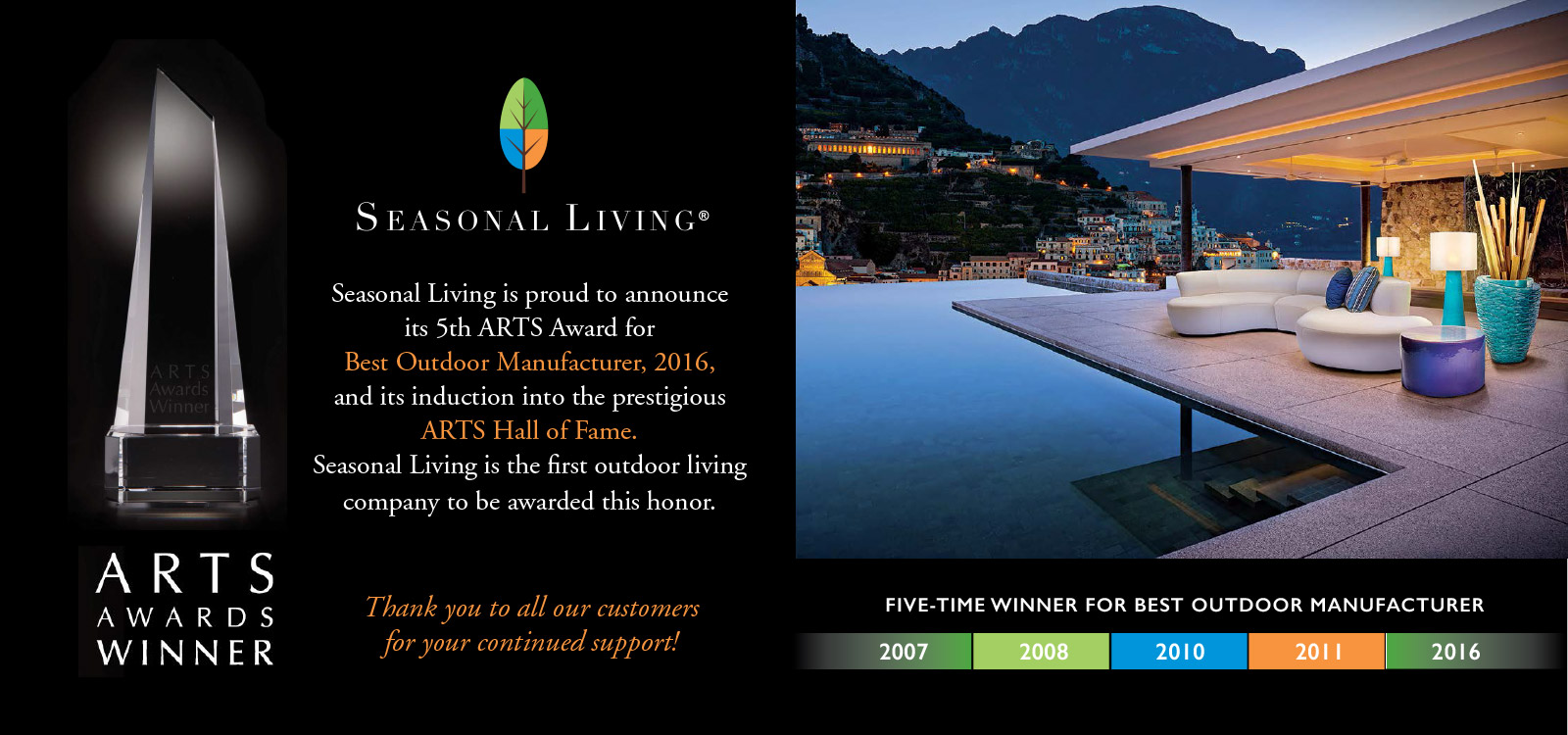 Austin, Tx – January 22, 2016 – Seasonal Living is the recipient of its 5th ARTS Award as Best Outdoor Manufacturer.  Additionally, the Austin Company is now inducted into the ART Hall of Fame – The  Company is the first Outdoor Living Manufacturer  in ART history to be inducted into the prestigious Hall of Fame.  Known for their boutique range of luxury and unique outdoor living products, the company's CEO & Founder Gary Pettitt accepted the award earlier this evening (Jan 22, 2016) at the ART gala reception.
Accepting the award, Gary Pettitt said "Receiving this 5th Best Outdoor Manufacturer ARTS Award and being inducted into the ARTS Hall of Fame  as the first Outdoor Living Manufacturer is truly a very special honor.  This award is very much a tribute to our incredible team of sales representatives across North America, our employees in Austin and Manila as well as our team of designers and manufacturing facilities across the globe who all strive each and every day to create moments of delight for our customers and the end consumer.  As we all know, this is a challenging (but wonderful) industry to be a part of and I am grateful to each one of our customers who every day place their trust in us to deliver these moments of happiness for their clientele".
"It's exciting to find a company that has such a great story and we are delighted to see them inducted with other leading global brands into our ARTS Hall of Fame," Sharon Davis, executive director of ART said. "From their first trade show in Dallas, Tx (just over 10 years ago) to the acclaimed success of the company a few short years later, the ARTS Awards committee's job was an easy one in naming Seasonal Living as an ARTS Award winner."
The ARTS Awards, presented each January during the Dallas Total Home & Gift Market, recognizes top manufacturers, retailers, product designers, interior designers and sales representatives from across the world in 26 different categories.
About Seasonal Living
Founded in 2005, by Gary Pettitt, Seasonal Living is a boutique manufacturing and direct manufacturer / wholesaler of high-quality specialty outdoor and indoor furnishings and décor accents. We are passionate about redefining outdoor living spaces, building long-term relationships with designers and suppliers the world over, and being a truly one-of-a-kind resource for fresh, bold, nature-inspired works of art.  Part of our ethos is to never follow the crowd. We constantly challenge ourselves to design and source collections that push prevailing definitions of design and mass-market product offerings.  The Company had previously won ARTS Awards for Best Outdoor Living Manufacturer in: 2007, 2008, 2010 & 2011.
About Dallas Market Center
Founded in 1957, Dallas Market Center is the world's most complete wholesale marketplace. Within its marketplace of more than five million square feet, retailers from around the globe source products ranging from home furnishings, gifts, decorative accessories and lighting to textiles, fashion accessories and men's, western, women's and children's apparel. With more than 50 markets each year attended by more than 200,000 retail buyers from all 50 states and 85 countries, Dallas Market Center offers hundreds of events and seminars geared toward helping retailers expand business and increase profits. The Dallas Market Center website is available at dallasmarketcenter.com.
About ART
ART is the creative home furnishings network representing manufacturers, retailers, representatives and other individuals and companies interested in promoting and enhancing the market position of the home furnishings industry. Each year ART sponsors programs such as the ART conference, regional educational seminars, the ART card and the ARTS Awards. The ART website is available ataccessoriesresourceteam.org.
About the ARTS Awards
The ARTS Awards is the premier awards program dedicated to the home industry. Up to 26 categories exist under the headings Manufacturer, Retailer, Product Designer, Interior Designer, Sales Representative, Rising Star, Green and Academy of Achievement. Anyone in the industry can nominate including manufacturers, retailers, sales representatives, designers, suppliers, consultants and other industry officials. Academy of Achievement, Rising Star and Visionary honorees are selected by an ARTS Awards committee each year. Companies that have won an ARTS Award five times are inducted into the Hall of Fame. Hall of Fame members are: Arteriors, BJ's Home Accents, C.S. Wo & Sons, Distinctive Designs International Inc., Feizy Rugs, Fine Art Lamps, Global Views, Montaage, Natural Decorations Inc., Palecek, Paragon, Robb & Stucky and Schonbek Worldwide Lighting. Visit dallasmarketcenter.com/artsawards for more information.