Seasonal Living® offers 2 liquid fuel fire-feature products in its Perpetual™ and Horizon™ Collections.  The light weight concrete "Zanzibar" coffee table offered in slate grey or ivory white is a great coffee table for use at any time of year and can easily converted from use as a fire table to a more decorative table during warmer Summer periods.  The Horizon Collection constructed from light-weight concrete (base) and acrylic top is also another table that provides complete product flexibility with its interchangeable fire burner, Champagne bucket and Lazy Susan options.  To be as safe as possible, it is important that customers understand the specified fuel and how to safely operate these table burners.  Over the coming weeks, Seasonal Living will be blogging further to provide information and tips on how to operate these products more safely.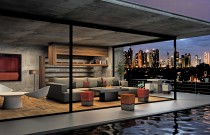 3 Important Tips and Trends For Use And Enjoyment of Today's Fire Tables
The latest trend in entertainment furnishings are fire tables. Know the facts that can keep the experience safe and enjoyable.
 1. Read,Understand & Recognize Safe Operation and Use…

While making advancements in the designs of fire features, manufacturers are also enhancing the education factor with more product awareness and information, stronger safety language and the use of QR coding (Quick Response) on product packaging along with etched warnings on products. Better informing yourself on safer operation and use is key to ultimate enjoyment. "We have invested in the visual design of our products, how to use product such as our fire tables more safely such as through the use of detailed illustrations combined with text.  We recognize our commitment does not end there," said Gary Pettitt, owner, Seasonal Living, Austin, Texas. "As a company, we are trying to provide a safer experience while recognizing that fire must always be handled with care and according to manufacturer instructions and warnings.  Further, we are creating on-line resources to better support clients and their end customers by providing them with information, images, video footage and other ideas to better educate and inform customers on the correct way to operate and care for their purchases."
 2. Benefit from NEW & Improved Approaches to A SafER Fire Experience … 
In recent years, fire feature manufacturers have recognized the need to step up measures for safer use.  Benefit from the thorough research like that done by Seasonal Living for their fire tables, into fuel options and fire glass.
A fuel with non-flashback properties and a fire glass that addresses thermal shock and possible explosive properties are leading to a safer, while sustainable, fire experience on quality interior and exterior fire tables. Extensive research has discovered the products that deliver safety.
 "Super" Fire Fuel …

Super.Bio.FuelTM,  is a NEW safer alternative to Ethanol fuels.  In fact, none of the fire feature tables that Seasonal Living currently offers operate with Ethanol.  The burners are not designed to use Ethanol ONLY Super.Bio.Fuel.  Designed specifically for ventless fireplaces; but also usable in fire pots and wicked devices is a safe and sustainable choice from www.lumina.com. With a plant-based configuration, Super.Bio.FuelTM delivers greener and safer attributes. The facts…
* Non-flammable resulting in safer handling properties.
* Requires an ignition / heat source at 200oF to burn. Pouring Super.Bio.FuelTM into a burning flame only results in putting out the fire and does not create an opportunity for flash-back.
* Super.Bio.FuelTM does not generate harmful exhaust or odor as the only exhaust is CO2 + water vapor, similar to amounts in human exhalation.  This fuel also has little to no nasty odors or fumes.
* As a clean burning fuel, facilities utilizing Super.Bio.FuelTM in fire features can realize cost savings as well as longer periods between refilling.
* Click here to download a PDF Product Sheet on Super.Bio.Fuel™SBF-SUPER-BIO-FUEL-PRODUCT-SHEET-v4
A "Schott" in the Glass…
A German manufacturer, SCHOTT, and their ROBAX® – Transparent Ceramic Fireplace Glass provides a safer experience through extremely heat-resistant fireplace glass.  The facts…
* Low thermal expansion results in neither high temperatures (up to 760°C) nor drastic temperature changes harming ROBAX® glass ceramic panels.
* Lessens the occurrence of thermal shock that is common with lesser quality fire glass.
* Protective glass used as a fire guard around a fire feature eliminates explosive occurrences or thermal shock and helps to protect individuals from close contact with the fire.
3. Coordinate an Indoor or Outdoor Experience That Is On Fire…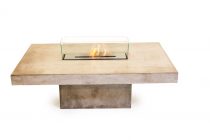 Delivering fire and furnishings with style is one of today's hottest trends. Seasonal Living's Horizon and Perpetual Collections are modern furnishing that perfectly complement fire units.
The Perpetual Collection™, constructed of light weight concrete and a natural sea-grass and sand mixture is made using a molding method. Each piece is bio degradable. A combination of light weight concrete, solid surface materials and a mixture of acrylic  is used in the construction of items in the Horizon Collection. The chair frames are made from zinc galvanized steel that also received a weather resistant powder coat finishing. The tough exterior is suited for extreme conditions in coastal environments.
To learn more about safeER operation of these products, click on this link to download a PDF article that will provide you with greater information on use of Super.Bio.Fuel and steps Seasonal Living has undertaken to make their products safER for your customers.SL Article on Horizon and Perpetual Collections – Fire safety – 2.27.13. 
Additionally, to view the Safety & User Operation Manual for each of these tables, click on this URL link:
http://www.SeasonalLiving.com/qr/superbiofuelburners
REPLACEMENT COPIES OF USER MANUALS ARE AVAILABLE UPON WRITTEN REQUEST TO SEASONAL LIVING.  Please make sure you are educating your employees and customers on how to more safely use their fire tables.
REMEMBER TO ALWAYS CLOSELY FOLLOW AND OBSERVE ALL MANUFACTURER INSTRUCTIONS WITH ANY FIRE.  FAILURE TO DO SO, CAN RESULT IN LOSS OF PROPERTY, SEVERE BURNS AND OR DEATH.