This week's latest Trends making their mark will bring out the artistry in your living spaces as well as promote furnishing designs that can live indoors or out.   Seasonal Living is where trends begin. 
The Artistic Trend…
Contemporary art motifs and sculptural styling are being seen as a reoccurring trend "POP-ing" onto the home furnishing scene! Such was the news coming out of the recent High Point Furniture Market, and Seasonal Living, the award-winning source for high-quality indoor/outdoor furnishings and decorative accessories, is way ahead of the trend with its introduction this season of the Horizon Collection.
Inspired by the chic contemporary and artistic designs of Scandinavia, the Horizon collection of dining and entertaining pieces further reflects this art element trend through sleek silhouettes and the bold white on metal coloration.
Yet, form has not taken away from function with the Horizon. Elements of this collection contain a high ultra-violet filer designed to withstand direct sunlight as well as eschew any growth of fungus or bacteria. The thermal application of this high-performance solid surfacing material creates a unique seamless shape that is completely waterproof.
Horizon's sculptural elements are found in the molded seat and table top pieces to the slender metal supports. The designs are perfectly set for a "pop" of dramatic color in future introductions.
"I believe that the marriage of Scandinavian design with superior solid surfaces sets a new standard for sophisticated living with the most durable of all materials," said Gary Pettitt, CEO and creative director of Seasonal Living.
The Multi-teriors Trend…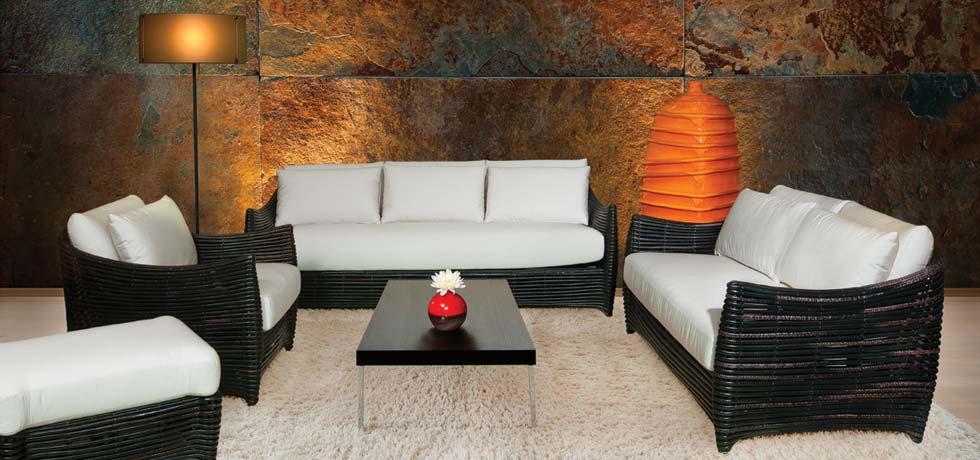 The trend toward furnishings that are suited to multiple areas inside and outside the home is one that is exhibited across Seasonal Living's entire line.
Multi-teriors usage is being seen as a way to stretch the possibilities for furnishings. Inthe creation of home living items that fit and last perfectly indoors or outdoors, Seaso
nal Living has augmented this trend with superior durability and lasting looks including weather resistant construction materials, stain resistance, and ease of maintenance.
The multi-terior trend finds its beginnings in the recent blurring of the lines between interior and exterior furnishings. No longer do furnishings for the outdoors need to be bulky and design-less. With such collections as Perpetual or Plato, Seasonal Living has raised the bar in creating items with comfort designed to be enjoyed wherever relaxation occurs.
Multi-terior furnishings also take a page from the value-added trend. In all areas of life, items that offer additional usage and value are being seen as a trend gaining popularity. There is definitely value in investing in furnishings that can be used indoors or out. With the collections from Seasonal Living this concept is trending on.
Additional Weekly trends coming to you from Seasonal Living… check back!