Millenia Center Table
Dimensions:
39.5W x 39.5D x 10H

Weight:
132lb
Packing Info:
45W x 45D x 14.5H
Weight: 150lb
Product #:

501FT151P2:

Perpetual Millenia Center Table

Details:

Handmade lightweight concrete with nylon glides

The cushion topper is a custom upholstery upgrade; fabrics shown are for example only. Please select 'Add Custom Fabric' below and use the fabric selector to choose your custom fabrics. Contact us for more information.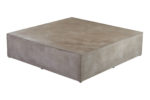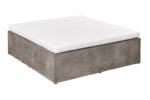 Technical Specifications
Detailed Dimensions

Standard (inches/lbs.)
Net: Top 41.5w 39.5d 1h | Base 41.5w 39.5d 10h
Gross: 47w 45d 15.5h

Net Weight: Top 158.5 | Base 42
Gross Weight: 216
Estimated Packed CBF: 19.4
Metric (cm/kg)
Net: Top 106w 100d 3h | Base 106w 100d 26h
Gross: 120w 114d 40h

Net Weight: Top 72 | Base 19
Gross Weight: 98
Estimated Packed CBM: .55
Warranty
Product Care
More Details
A sample bottle of concrete sealer is shipped with this item. Buyer must seal product upon receipt and should purchase additional specified sealer to be applied regularly. FAILURE TO PROPERLY SEAL PRODUCT VOIDS WARRANTY.
Our Perpetual Collection lightweight concrete furniture is handmade. These products may exhibit color and veining variations by batch and by individual item. If you are ordering multiple pieces, please notify us in writing when you place your order and we will do our best to assemble color finishes that are as consistent as possible.
While our Perpetual Collection items are weather-resistant and suitable for indoor and outdoor use, it is the buyer's responsibility to follow all care instructions which are included with the product. Failure to follow care instructions voids warranty.
---
Article printed from Seasonal Living: https://www.seasonalliving.com
URL to article: https://www.seasonalliving.com/store/products/millenia-collection-center-table/
Click here to print.
Seasonal Living | e-Mail: Service@SeasonalLiving.com | Tel: + 1.512.554.5738 | Fax: + 1.512.330.0841
Copyright ©2017 Seasonal Living Trading Company. All rights reserved.