Ingot Ingot Cube Accent Table/Stool
Dimensions:
15W x 15D x 18H

Weight:
42lb
Packing Info:
19W x 19D x 22H
Weight: 74lb
Product #:

520FT006P2AB:

Traditional Hammer Aged Bullion Top +Sides | Smooth Inca Cacao Base

520FT006P2RS:

Traditional Hammer Raw Sterling Top +Sides | Smooth Nubian Base

Details:

Hand-hammered copper top and sides with smooth-finish base and Permalac® coating, powder-coated low-carbon steel inner support frame, adjustable nylon glides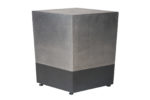 Technical Specifications
Ships in 1 crate
Estimated Packed Volume: 4.6 CBF | .13 CBM
Warranty
Product Care
More Details
Each item is individually produced by artisans using traditional hammer and metalworking techniques. No mechanical processes are used; all patterns are created by individual hammer strikes. As such, each piece is unique and will vary in color and pattern.
---
Article printed from Seasonal Living: https://www.seasonalliving.com
URL to article: https://www.seasonalliving.com/store/products/ingot-ingot-cube-accent-table-stool/
Click here to print.
Seasonal Living | e-Mail: Service@SeasonalLiving.com | Tel: + 1.512.554.5738 | Fax: + 1.512.330.0841
Copyright ©2017 Seasonal Living Trading Company. All rights reserved.