Guardsman Onsite Cleaning/Repair and Re-Seal Package
| | |
| --- | --- |
| Dimensions: | |
| Product #: | |
| Details: | Whether it's a chipped corner, attempt to remove a stain or general cleaning, our expert repair technicians have you covered. See More Details for important information about this service. |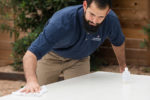 Technical Specifications
Warranty
Product Care
More Details
Whether it's a chipped corner, attempt to remove a stain or general cleaning, our expert repair technicians have you covered. Each repair service includes 2 site visits: the first to make necessary repairs, and a return visit to re-protect the Perpetual product after the repair cures.
This service requires advance information prior to service being ordered. Contact us for more information and pricing for additional items.
---
Article printed from Seasonal Living: https://www.seasonalliving.com
URL to article: https://www.seasonalliving.com/store/products/guardsman-onsite%e2%80%88cleaning-repair-and-re-seal-package/
Click here to print.
Seasonal Living | e-Mail: Service@SeasonalLiving.com | Tel: + 1.512.554.5738 | Fax: + 1.512.330.0841
Copyright ©2017 Seasonal Living Trading Company. All rights reserved.